Contact:
http://www.stivescycling.org.uk/
Based in St Ives, Cambridgeshire, we are a club that caters for all ability levels and most forms of cycling. Our members currently ride in many different forms of cycling, competing in road, mountain bike and cyclocross racing, time trials, sportives and even the odd triathlon, but also cater for social rides with our weekly club runs, both on and off road! We aim to be friendly and approachable and to help support our members get the most out of their cycling.
Anyone interested in giving time trialing a try the Club meet every Wednesday in Sawtry for the 10m TT on a quiet piece of road.A time trial bike is not necessary, many riders turn up on standard bikes and occasionally mountain bikes. All levels of abilities are welcome.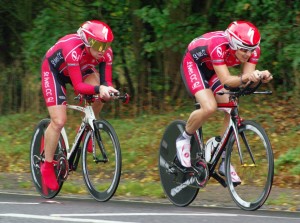 People who are considering joining the club are encouraged to come along on a "try and see" basis. If you do join in on a regular basis we would then encourage you to join for the many benefits membership offers.