Mayor of London Boris Johnson has said that he would support a ban on bike riders in London wearing earphones – leading one commentator to suggest that his credibility with cyclists "is evaporating." In an interview with BBC Radio London's Vanessa Feltz, Mr Johnson also appeared to downplay calls led by British Cycling's Chris Boardman for London to ban lorries at peak hours.
The Mayor told Ms Feltz that Transport for London (TfL), which he chairs, regularly discusses the issue of cyclists and pedestrians using handheld electronic devices.
He described earphones used by people to listen to music while riding bikes as "and absolute scourge," and said he would be in favour of banning them.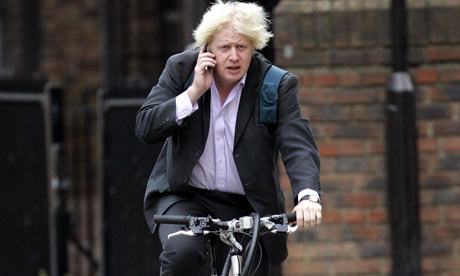 Boris Johnson paying close attention to the traffic
Mr Johnson continued: "Call me illiberal, but it makes me absolutely terrified to see them bowling along unable to hear the traffic.
"You've got to be able to hear that car behind you or about to come out of the road in front of you," he added.
It's an issue Mr Johnson has addressed before.
In a 2011 reply at Mayor's Question Time when the Green Party's Jenny Jones quizzed him about pedestrian casualties in London, including children, he said: "I am afraid I see too many cyclists with iPods, earphones in both ears, which I think is wrong. I do not agree with that. I am worried.
"Speaking as one who cycles all over London, I see a lot of people using handhelds, using BlackBerry devices and not paying proper attention to the road."
However, one photo circulated widely on Twitter and Facebook on Tuesday showed Mr Johnson himself using a handheld mobile phone while cycling.
In an article for the Guardian, Peter Walker, who regularly writes its Bike Blog, said: "What credibility Boris Johnson had with London's cyclists… is evaporating. Six cyclists have died on London's roads in just under two weeks. All but one were killed by lorries, coaches or buses. The mayor's reaction? To talk about headphones."
What isn't clear is whether Mr Johnson might be in possession of information suggesting that one or more of the six cyclists killed in London within the past fortnight may have been using headphones, and if so, whether police believe it may have been a contributory factor.
Meanwhile, British Cycling policy advisor Chris Boardman addressed an open letter to Mr Johnson on Tuesday in which he urged the Mayor to ban lorries from London's roads at peak times.
In his letter, the former world and Olympic champion and wearer of the Tour de France yellow jersey says:
When I rode alongside you to help you launch your vision for cycling in March this year, you made a verbal promise to look at the successful experiences of Paris and many other cities in restricting the movements of heavy vehicles during peak hours.

Also, in the document, the Mayor's Vision for Cycling in London (2013), you state: 'In consultation with business, we will study the experience from cities such as Paris and Dublin, where lorries over a certain size are restricted from certain parts of the city or at certain times of the day.'

There have now been six cycling fatalities on the capital's roads in two weeks and a total of 14 so far in 2013. HGVs were involved in nine of the fatal crashes – that's 64% of the fatalities – despite making up less than 5% of traffic. In Paris last year [sic] there were zero cyclist fatalities.

British Cycling is disappointed that, eight months later, nothing has been announced on progressing this. Now is the time to make the tough and critical decisions necessary to achieve your vision – without that, more lives will be put at risk.

Paris is a safer place to ride a bike and we believe that this is, at least in part, due to the restrictions on dangerous vehicles entering the city during peak hours. London has an opportunity to emulate and surpass Paris and to lead the way for the other ambitious cycling cities across Britain. Let's not waste this opportunity to do something now. The longer we delay, the more lives will be lost.

Improving HGV safety is a key aspect of our road safety manifesto. My colleagues at British Cycling are willing to help on this matter in whatever way they can. Do let us know if we can be of any assistance.

I would welcome an update on how this matter is progressing at City Hall.
During his interview with Ms Feltz, however, while acknowledging that there needed to be a "much bigger conversation about HGVs" and the risks they present to cyclists, Mr Johnson seemed to distance himself from a complete ban at certain times of the day.
He said that introducing such restrictions could lead to a "serious influx as soon as the ban is over," and thereby increase the danger for cyclists and other vulnerable road users travelling outside rush hour.
As for that statistic quoted by Boardman that no cyclists were killed in Paris "last year" – in fact, it relates to 2011 – it is an attention-grabbing one, regularly invoked to support calls for a restriction on movements on lorries similar to those in the French capital; however, it does need to be put into context.
For a start, the French statistics relate to the area covered by the Prefecture of Police of Paris, which covers 762 square kilometres; Greater London, for comparison, covers 1,572 square kilometres.
Secondly, even the Prefecture of Police of Paris points out that 2011 was unusual, with a spokesman quoted by the website 20minutes.fr earlier this year as saying "it was truly an exceptional year because since 2007 we generally see between two and six deaths [of cyclists] a year on the roads."
In 2012, five cyclists lost their lives while riding their bikes in the area covered by the Prefecture, including Philippe Le Men, a cycling journalist with L'Equipe, killed by a lorry as he rode to work at the sports daily's offices.
You can find more thoughts on that zero casualties in 2011 statistic in this blog post published in September last year by Buffalo Bill, who founded the Moving Target ezine.
One other startling statistic from Paris is that in 2012, there were 39 people killed in road traffic incidents in the city, 18 of them pedestrians; the same year, in that area of Greater London that is a little over twice the size, there were 134 road traffic fatalities, of whom 69 were pedestrians.
Simon has been news editor at road.cc since 2009, reporting on 10 editions and counting of pro cycling's biggest races such as the Tour de France, stories on issues including infrastructure and campaigning, and interviewing some of the biggest names in cycling. A law and languages graduate, published translator and former retail analyst, his background has proved invaluable in reporting on issues as diverse as cycling-related court cases, anti-doping investigations, and the bike industry. He splits his time between London and Cambridge, and loves taking his miniature schnauzer Elodie on adventures in the basket of her Elephant Bike.