Custom built TT frame built by Barry Barron of Stowe in Lincolnshire for TT racer Barry Frow, Reynolds 531 Sl frame, super light and super agile;
The bike has had all braze ons removed by Argos Cycles in Bristol and was recently re-powder coated matt silver by RPA powder coating:
Old pic, but I will do some new ones and send a link for high res: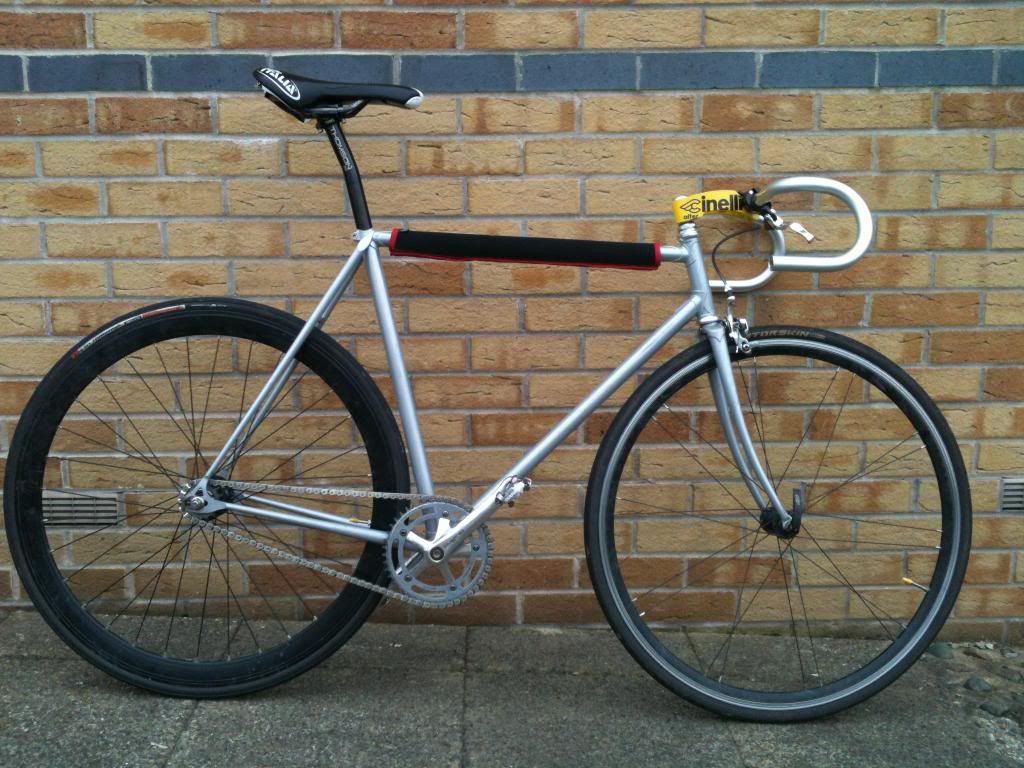 The bike is fitted with:
Selle Italia Turbomatic Gel Flow Team edition saddle (optional, can remove this and reduce price accordingly)
Thomson 27.2 layback seatpost black
3T status stem 115mm
Velo Orange Randonneur bars (large flat area on the tops in lieu of STI or Aero brake levers!)
Shimano 105 SLR front brake
Dia Compe Dirty Harry brake lever Silver
Token carbon BB 103mm (about 1000 miles on it)
Sugino RD2 Chainset and Velosolo 44 T chainring
Rodi front wheel 30mm deep
Miche 16T sproket and carrier
Half link chain - About 500 miles on it.
Weinmann Pegasus rear wheel - Novatec Hub - no braking surface
MKS chain tugs
SPD Pedals
The bike weighs between 7 and 8kg and is damn quick and agile. I am very sad to sell the bike as it has served me so well as a TT racing bike and a fixie for commuting. However, my knees are not up to riding fixed any longer.
The bike is spaced at 120mm between the track fork ends; was originally a 5 speed frame, I had Argos Cycles in Bristol replace the vertical dropouts with track fork ends.
The fork crown has the 'Barron' logo embossed on it, the lugs are all cutout to save weight and the BB shell is also cutout to save weight - the bike was built light and built to be fast.
open to offers ~£495
PM me for more detail, pics or a trial ride.
**The Cinelli Alter stem in the picture has been replaced with a 3T status 115mm stem**