It won't go away, this one: Emma Way has been back on the BBC to tell her side of the story. Meanwhile the cycling community continues to reclaim the #bloodycyclists hashtag with a new website set up in its honour.
Not surprisingly to anyone who's been in a collision with a vehicle that's been taken further, Emma's position (outlined through her solicitor, Simon Nicholls) is that her driving wasn't at fault, and that Toby Hockley, the cyclist, was the one who hit her.
Nicholls said "All the way through, Emma has said, 'it wasn't my driving that was at fault. It was the cyclist who clipped my mirror, not the other way round'."
We don't remember her saying that all the way through, although obviously it's the most sensible position for her to take should the case come to be heard. Effectively here it's the word of one party against the other, although the presence of other cyclists will likely give at least one other credible witness of the incident. Hockley's position, when he spoke to us, that he was descending on a blind corner and keeping to his side of the road. Short of a forensic examination of the tarmac – and we don't think that's very likely – it would boil down to the witness statements.
As for the the failure to stop? "I did stop", Emma says in the interview. "I don't know what the point is that I didn't stop. I stopped, looked in my rear, I assessed the situation and I saw that there was no need to stop. If he'd wobbled and gone to the side there's no way I would have driven off."
The law here is clear, and Emma's actions don't meet its requirements. Section 170 of the Road Traffic Act (1988) states that in any case where injury or damage is caused by a collision, "The driver of the vehicle must stop and, if required to do so by any person having reasonable grounds for so requiring, give his name and address and also the name and address of the owner and the identification marks of the vehicle". Since we know that the cyclist was both injured and his bike damaged (albeit neither seriously), to drive away is to commit an offence unless the driver then reports the incident. So whether Ms Way is guilty of committing the offence of leaving the scene of an accident is largely down to whether she reported the incident or not. It would certainly be ironic if the twitter outcry meant that she did in fact comply, although obviously without it it's likely the incident would never have been reported, since she didn't stop to exchange details.
Ms Way's solicitor was at pains to outline how bad it's been for Emma since her fateful tweet. "For poor old Emma's sake, she spent the first few days knocked from pillar to post by people saying things about her, national newspapers turning up on her doorstep, and the simple and unequivocal fact is that she felt it was about time she started kicking back a bit; not about the tweet which she's always accepted she was completely wrong to have done, but about the suggestion that she was driving badly because she's always said that she wasn't"
"I've had people drive past me and shout 'killer cyclist' [sic] when it's not the case at all", Emma added. "No-one's heard my story until now. People shouldn't just judge me when all they've seen is a stupid tweet that I made and then the other guy's side of the story. The real side of the story just isn't what it's been portrayed as."
She added, "I don't have a negative attitude towards cyclists. I cycle round myself."
As has been consistently the case in media interviews, Ms Way's assertion in her tweet that she has 'right of way' over a cyclist and cyclists 'don't pay road tax' were not touched upon.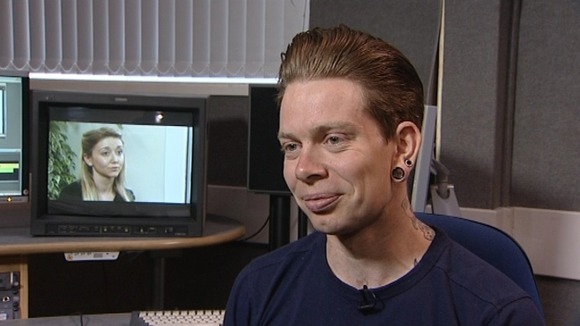 The cyclist involved, Toby Hockley, has also been interviewed, by ITV News. "I was very surprised she didn't stop", he said of the incident. "I hit her car fairly hard. As you can see I'm not a not a small guy. If you hit me with a car, you're going to know about it."
"I was just grateful I was okay", he continued. "A lot of cyclists come off an awful lot worse in these situations. Being in one piece, and being able to finish the ride... I just considered myself lucky"
Asked about the tweet, and its aftermath, Hockley said, "Well I'm glad she's remorseful. I would very much liked her to stop after any sort of collision to make sure the person was all right . She claimed she didn't see me; I could have been a child. I could have been a walker - anyone. That's all the more reason to stop and check . I'm sorry she's in trouble with her employers and I feel very bad for her employers that have done a lot of good for sport in Norwich and I hope their image hasn't been tarnished out of all this."
He wouldn't be drawn on what he thought should happen to Ms Way, saying that it was a matter for the Police, the CPS and her employers.
Meanwhile, efforts to reclaim the #bloodycyclists hashtag continue apace, with the creation of www.bloodycyclist.com. "This page has been created in the aftermath and media frenzy created by the recent collision between a Motorist and a cyclist (Toby Hockley) on a small country road in Norfolk on Sunday 19th May", the site begins. "After the collision the motorist made what can only be described as an ill advised tweet almost boasting of the fact that she had knocked down a cyclist and ended the tweet with #bloodycyclists."
"We have lots of plans that we will roll out over the coming days but our main hope is that we can raise some awareness and money for some of the dangers that face cyclists on a daily occurrence."
The site currently features some thoughts from Toby himself (who's been fairly pragmatic about the whole thing throughout), and a quick precis of the 'road tax' situation via www.ipayroadtax.com.
There's lots of other stuff knocking about too. Here's a little skiffle song immortalising the incident, from twitter user @Miskhills:
And here's @VexedVeloist's take on the original interview, with subtitles
Dave is a founding father of road.cc and responsible for kicking the server when it breaks. In a previous life he was a graphic designer but he's also a three-time Mountain Bike Bog Snorkelling world champion, and remains unbeaten through the bog. Dave rides all sorts of bikes but tends to prefer metal ones. He's getting old is why.