Over the years there has been a significant rise in the number of bicycle riders using cameras to record their daily rides. People record their rides using bike helmet cameras and other type of mountable cameras that allow the riders to record what they and the other road users are up to.Type of cameras that have become a new rage these days are action or sports cameras that people are using to shoot their videos and photographs in mid action, while skiing, cycling, surfing or simple playing any other sport.
Most cyclists use wearable cameras to record their daily routine and routes etc., though cameras have proven real evidences in case of accidents and hit and run cases – something that cyclists face frequently, while trying to commute from one place to another.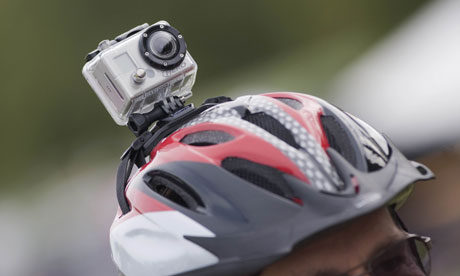 We at Bike Lights UK understand safety on road is the most important for cyclists, who are most vulnerable to accidents, not just for their fault, but at times because of the fault of the cars and other vehicles on road that fail to notice the rider on road and ram into them. Therefore, in addition to a range of online bike accessories including bike lights, batteries etc, we have also launched a range of action cameras.
Including our own range of action camera, we at Bike Lights UK also provide our clients with the access to GoPro and Contour action camera, that have become really popular and are selling dime a dozen amid cyclists of all stature.
Yes, action cameras can be a great instructor and friend on the road; they can also be a problem for you, if you do something illegal (because it will record every bit of your action). However, action cameras do double up as third eye for cyclists on road. Cyclists have for long had a dusty coexistence with pedestrians and motorists. Cyclists are in the bad books of motorists and pedestrians who frequently criticize riders for blowing through halt signs and breaking traffic rules.
Now however, wearable action cameras provided by us at Bike Lights UK and other similar bike accessory sellers are steadily becoming intermediaries in the heated relationship between cyclists, motorists and pedestrians. These high-tech cameras have become significant because they record every movement, thus provide evidence in accidents and hit and run cases where motorist hit bicyclists and don't care to help. Videos captured from these cameras have now (with advent of technology) begun to play valuable role in police investigations in cases of hit and run, and other incidents.
According to our legal adviser (specialist in representing bikers) here at Bike Lights UK, informs that use of cameras while riding for the purpose of keeping personal training record and/or to stay safe on the road, will increase the demand for such cameras exorbitantly sending the price of action cameras to fall.
At Bike Lights UK we specialize in providing state of the art action camera over our online portal at the most reasonable price. We are one of the most trusted names in the bike accessories business and out motto is simple, serve with dedication. Besides our products a client can also be satisfied with the great customer support we offer.